Follow us on Instagram for up-to-date news! @LeedsStudentGovernment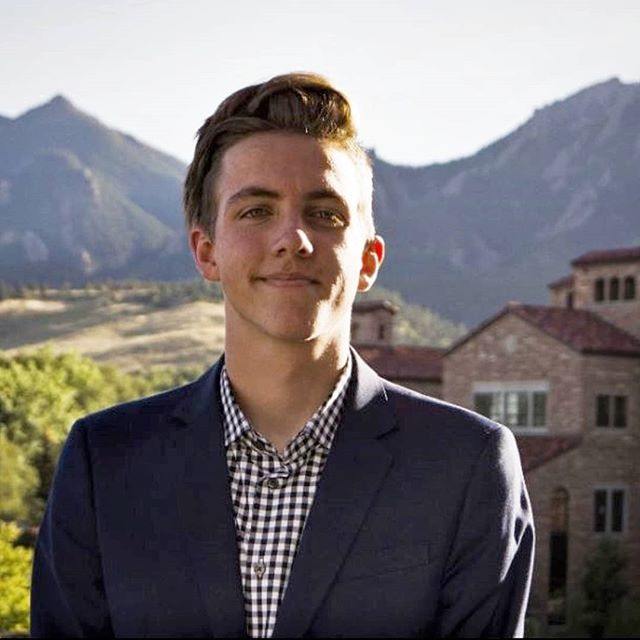 Meet your new Student Body President, and face behind this instagram account over the past year, sophomore and third-generation buff Riley Ferrero! As student body president, I vow to ensure that students' voices and wishes are represented in our actions, initiatives, and communications with administration. I understand fully that I have big shoes to fill, and a fantastically driven and impressive group of students to lead & represent. Thank you to everyone who supports my mission, and has placed their trust within me to fulfill this position to the greatest extent of my ability. I cant wait to make this next year the most impactful, constructive, and beneficial that I possibly can! Sko Buffs! ... Though these executive transitions are underway, and the end of spring term is right around the corner, please stay tuned to our marketing channels in order to stay up to date with the updates and fantastic initiatives we still have to offer, along with executive team updates which are to be announced within the next few weeks.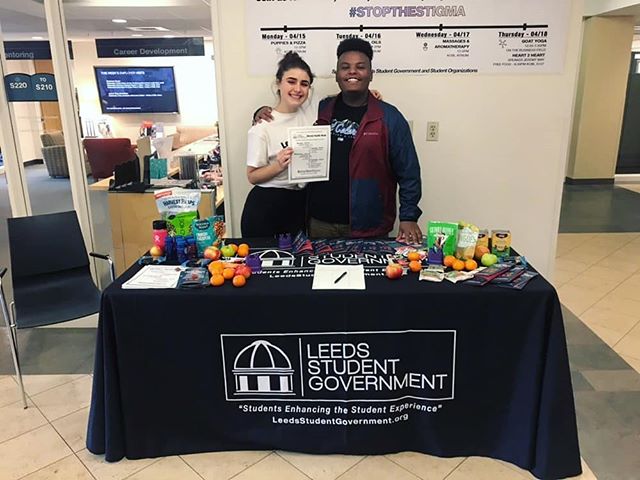 Day 2 of Mental Health Week was a success! Visit us tomorrow in the atrium 12-2 for snacks, information, massages, and aromatherapy!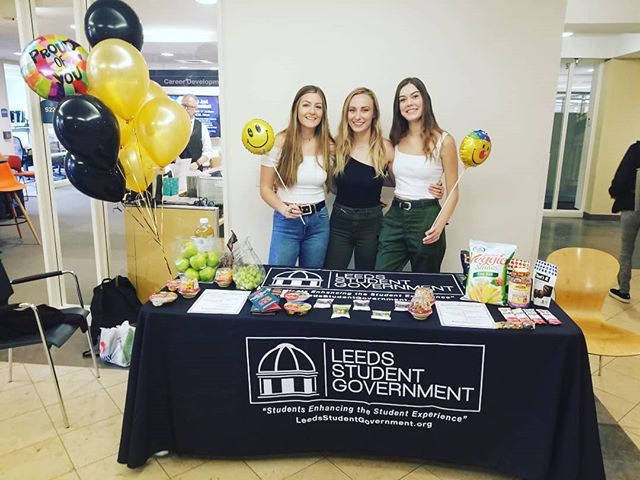 LEEDS MENTAL HEALTH WEEK: Visit our fantastic team, who will be present throughout the week with snacks and information pamphlets regarding mental health as we prepare for this finals season! Today: Puppies and Pizza 12-2 Tomorrow: DIY Essential Oils 11-2 Wednesday: Massages and Aromatherapy 12-2 Thursday: Goat Yoga 12:30-1:30 and Heart 2 Heart Speaker Series 6:30 in S127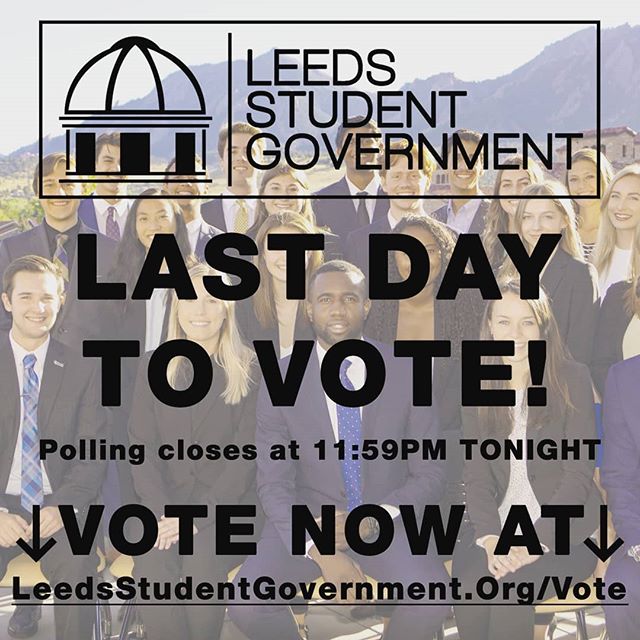 It's the Final Countdown! Submit your vote before midnight tonight to elect your student representatives!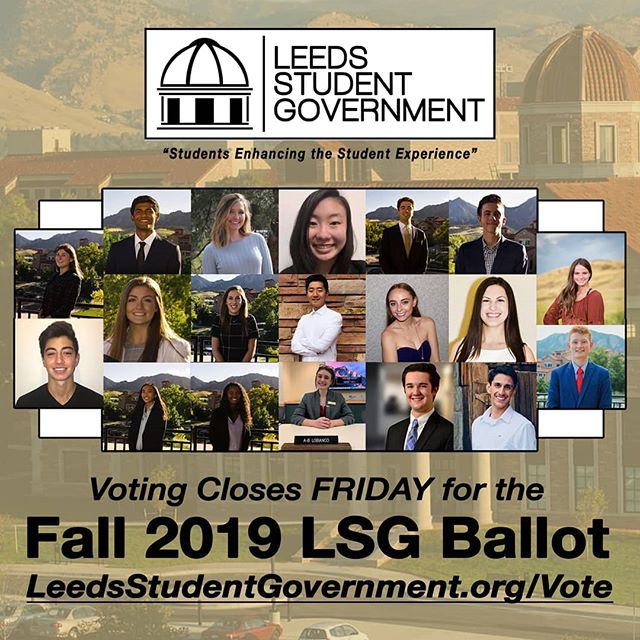 Voting closes at 11:59PM Tomorrow! Please visit the link in our bio and ensure that your voice is heard!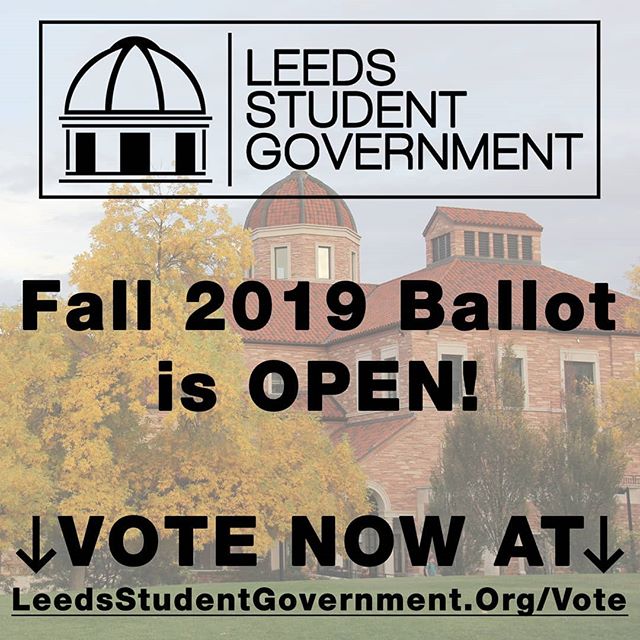 The Fall 2019 Ballot is Open! Visit the link in our bio to view candidates' headshots and bios, and to cast selections for your student representatives. Voting will close at 11:59PM MST on April 12th.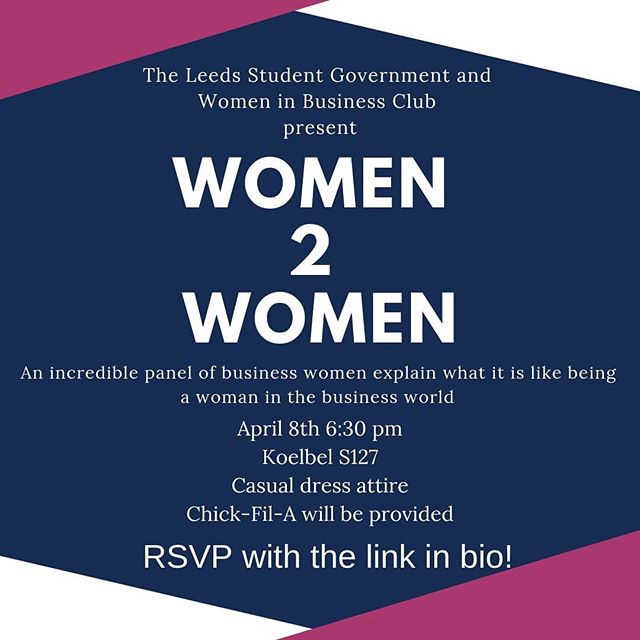 Join LSG and Women In Business Club this Monday at 6:30pm for free Chick-fil-A and a wonderful speaker event! Link in bio.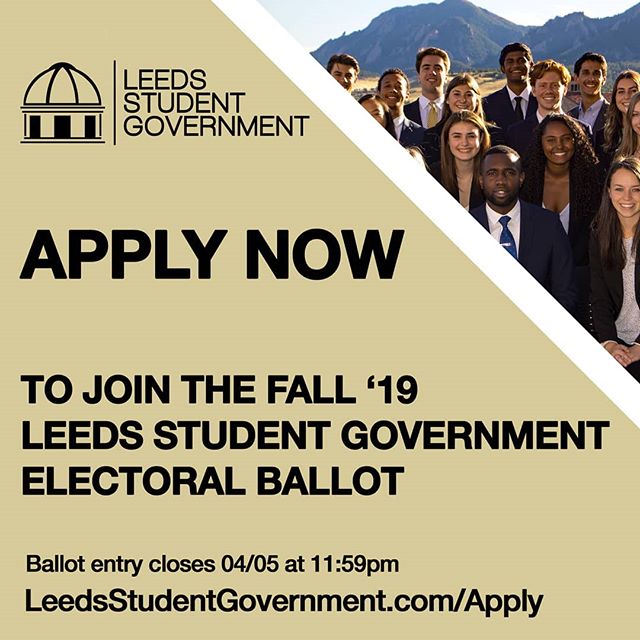 Happy Spring Break, Leeds Buffs! We have officially opened our ballot applications to students! If you are passionate about Leeds, the business school student body, project management, teamwork, and enhancing the student experience, take some time this break to review our organization and apply! The application is available on our website at LeedsStudentGovernment.com/Apply until April 5th at 11:59PM MST (Link in Bio)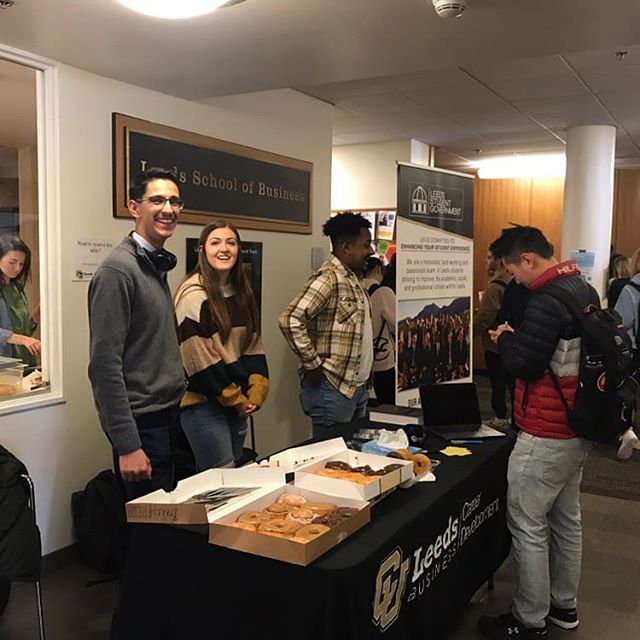 Our office hours today begin at 3:30pm! Come see us in the atrium to give feedback, ask questions, add suggestions, shop our apparel store, and grab a tasty treat!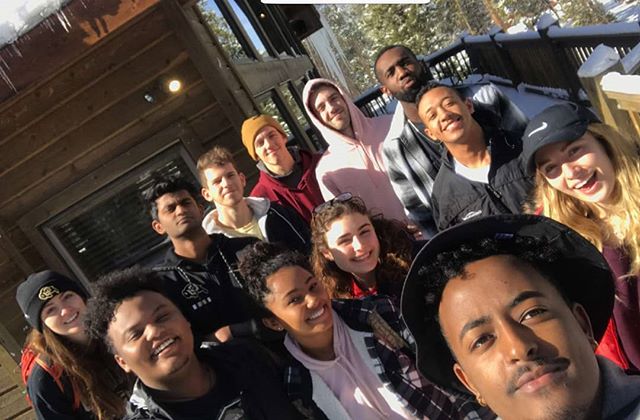 Things we are thankful for: -Another fantastic retreat -Group and task force bonding -Vision alignment -Fun memories and friends Things we are not thankful for: -Impassable road conditions Thank you to every member who was able to brave the conditions this weekend! What a memorable and enjoyable retreat!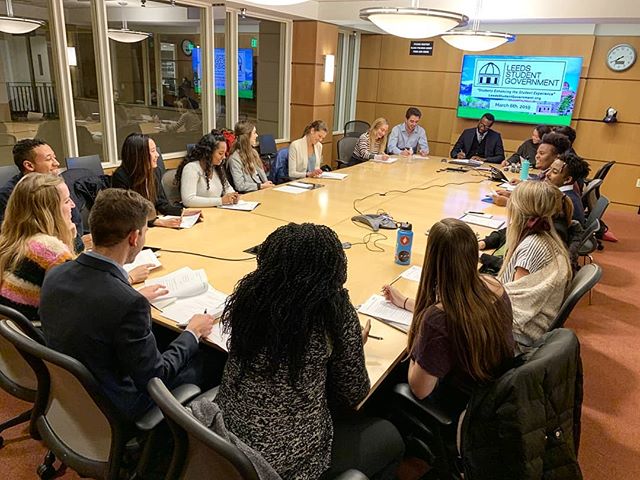 Each Wednesday, our fantastic spring government roster meets and organizes initiatives to enhance your student experience. #BigThings coming your way, Leeds!